Waterdrop Replacement for Maytag Fridge Water Filter UKF8001
Regular price
Sale price
$16.99 USD
Unit price
per
Sale
Sold out
Key Feature:
NSF 401, 53, 42, 372 certified - tested and certified by NSF International against NSF/ANSI standard. (For detailed information, please refer to the performance data sheet in the instruction manual.)
100% compatibility guarantee, works exactly like the original filter, without water leakage.
Provides 6 months or 300 gallons of refreshing water.
Compatible Models: Maytag UKF8001, Whirlpool Filter 4, EDR4RXD1, 4396395, 469006, PUR Puriclean II, Kenmore 46-9005, 46-9006, 46-9992. Please check the full list below for more details. The manufacturer's names and part numbers have been used for reference purposes only.
Overview:
Supreme NSF certified refrigerator filter
Tested by NSF 401 to reduce 95.2% phenytoin, 94.4% of ibuprofen, 96.2% of naproxen, 96.6% of estrone, 99.2% of BPA, 97.2% of nonyl phenol.
Tested by NSF 53 to reduce 99.6% of lead, 99.99% of cysts, 96.6% of benzene, 98.4% of carbofuran, and 93.6% of endrin.
Tested by NSF 42 to reduce 97.3% of chlorine, sediment, rust, turbidity, bad taste and odor.
Tested by NSF 372 for lead-free material. The safety of the product and drinking water is our concern.
Tested and Certified by NSF International against NSF/ANSI 42&53&401&372 in model EFF-6009AS for the reduction of BPA, estrone, phenytoin, naproxen, nonylphenol, ibuprofen, lead, cysts, benzene, carbofuran, endrin, mercury, chlorine, bad taste and odor, etc.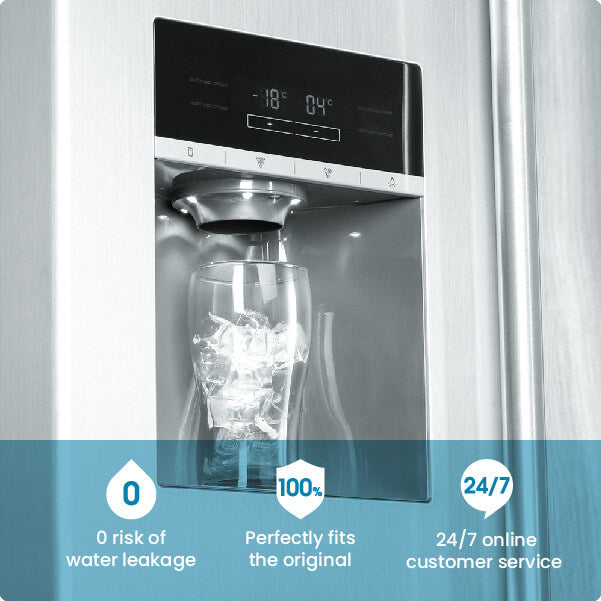 Perfect fit & no water leaks
The filter perfectly fits Samsung.
The full compatibility reduces water leaks to almost none.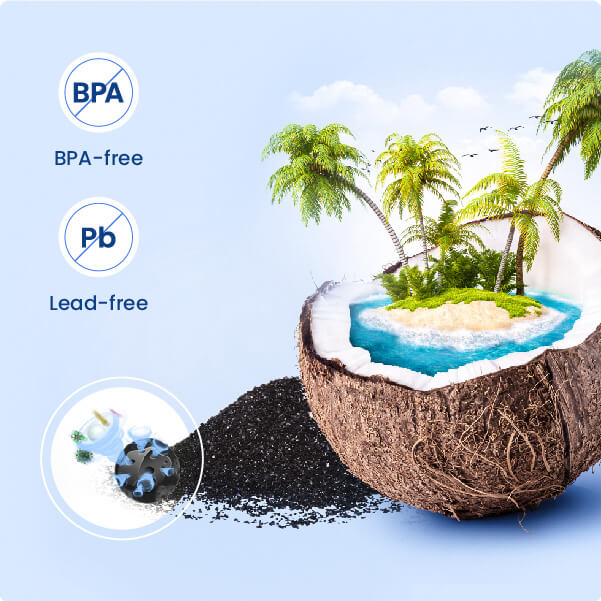 Coconut shell carbon block
Harnesses the power from Sri Lankan coconut shell to make our carbon block filter.
The high adsorption rate of chlorine, bad taste and odor is one key reason why we excel. 
Specification:
Model:

WDP-UKF8001

Certification:

NSF 401, 53, 42, 372

Filter capacity: 300 gallons (1137 liters) / 6 months
Flow rate: 0.5 gpm (1.9 lpm)
Pressure: 20-100 psi (140-689 kPa)
Temperature:

 

33-100 °F / 0.6-38 °Cnt, and turbidity.
The Waterdrop
WDP

-UKF8001 is compatible with following model numbers:
Maytag:
UKF8001, UKF8001AXX-750, UKF8001AXX-200, UKF8001P, UKF8001AXX, UKF9001
KitchenAid:
4396395, 8171032, 8171249
Puriclean II:
4396395, 8171032, 8171249
Sears or Kenmore:
46-9005, 469005, 9005, 9005P, 46-9006, 469006, 9006, 9006P, 46-9992, 469992, 9992, 9992P, 469005750, 469005-750, 46-9005-750, 469006750, 469006-750, 46-9006-750, 04609005000, 04609006000
Viking:
RWFFR, 67006475, WF295
Refrigerator Models:
AFD2535FES, AFI2538AES, GI0FSAXVY, GI5FSAXVY02, GI6FARXXB, GI6FARXXY, GI6FDRXXY, GI6SARXXF05, GX5FHTXVQ, GX5FHTXVY, GZ25FSRXYY, GZ25FSRXYY2, GZ25FSRXYY5, JCD2292HTB, JCD2295KES, JFC2089HES, JFC2089WEM, JFC2089WEM9, JFC2089WEP, JFC2290VEM, JFC2290VEP, JFI2089AEP, JFI2089AES, JFI2089WES, JFX2597AEM, JSD2690HES, JSD2695KES, KBFS20EVMS, KBFS20EVWH, KBFS22EWMS, KBFS25EWMS, KFCO22EVBL, KFCP22EXMP, KFCS22EVMS, KFIS20XVMS, KFIS25XVMS, KFXS25RYMS, KFXS25RYMS4, LSD2615HEW, LSD2615HEZ, MFC2061KES, MFD2560HES, MFD2561HEB, MFD2561HES, MFI2266AEU, MFI2266AEW, MFI2269VEA1, MFI2269VEB, MFI2269VEM, MFI2269VEM10, MFI2269VEW, MFI2568AEB, MFI2568AES, MFI2568AEW, MFI2569VEM, MFI2569VEM4, MFI2569VEQ1, MFI2569YEB0, MFI2569YEM0, MFI2665XEM, MFI2670XEM, MFX2570AEM, MFX2571XEM, MSD2641KEB, MSD2650KEU, MSD2651HEW, MSD2651KES, MSD2651KEU, MSD2651KGB, MSD2655HEQ, MSD2657HEW, MZD2665HES, MZD2665HEW, WRX735SDBM, JBL2088HES, JCB2058GEW, JCD2290HES, JCD2389GES, JFC2070KRS, JFC2087HRP, JFC2087HRS, JFC2089HEP, JFC2089HPY, JFC2290VEP4, JFC2290VTB3, JFD2589KES, JSD2695KGB, JSD2697KEY, MCD2257HES, MCD2257KES, MFD2560HEB, MFD2560HEW, MFI2067AES, MFI2067AEW, MFI2266AEB, MFI2269VEM2, MFI2269VEM6, MFI2269VEW8, MFI2568AEQ, MFI2569VEB, MFI2569VEM2, MFI2569YEM2, MFI2665XEM6, MFI2670XEM7, MFX2570AEM0, MFX2570AEM4, MSD2352KEB, MSD2355HEW, MSD2573VES03, MSD2652KEB, MSD2652KGW, MSD2656KES, MSD265MHES, MSD265OHEW, MZD2665HEB, MZD2665HEQ, MZD2666KEW, PSD262LHEB, PSD262LHEZ, PSD264LGRW, PSD265LGES
Other Brands:
Aqua Fresh WF295, Crystala Filters CF5, EcoBlueLife EBL7770, Icepure, GOLDEN ICEPURE RWF0900A, Mist CWMF004, MORE Pure Filters MPF15090, OnePurify RFC0900A, Pure Line PL-400, Pure Green PG-8001, Tier1 RWF1040, HDX FMM-2, Clear Choice CLCH101, Swift Green SGF-M9, SGF-M10, AQUACREST AQF-UKF8001, Waterspecialist WS607B, Maxblue MB-UKF8001-P, Filterlogic FL-RF07
Shipping & Returns

We do offer FREE shipping in the United States. At the moment we do not offer shipping to Hawaii, Alaska and Puerto Rico.

We offer 30-day Return. We just need proof of damage and we will offer a free refund or exchange.
Share